This wiki system is designed to be easy to read, contains links to relevant files and documents and can also be fully searched using the search feature shown below.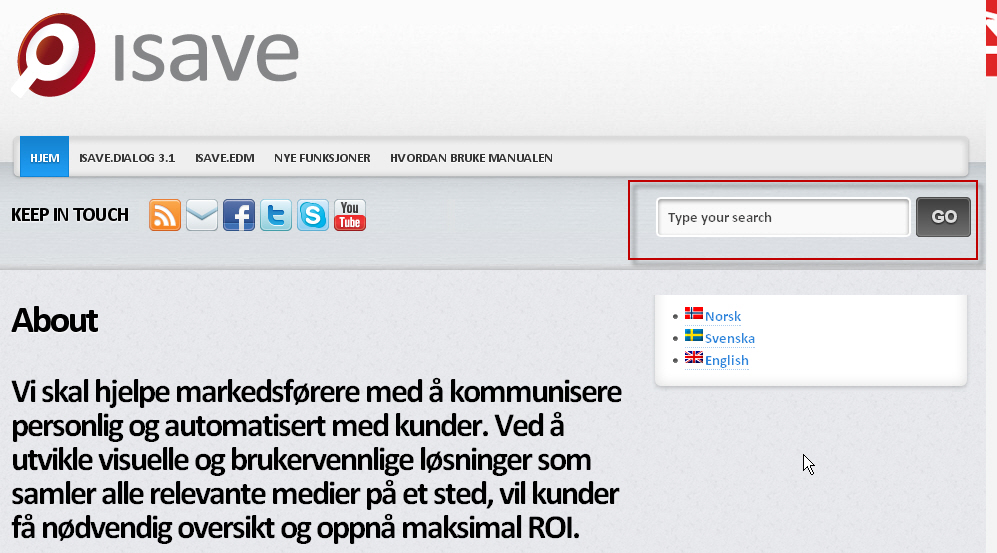 We hope that you will find our wiki system full of useful information and easy to navigate and use.
As an isave partner, we have put this Resource Center together to give you some tips and walkthroughs on how to get the most out of your platform.
We aim to continually update this site to include both technical and marketing help and support. We're here to help, so please let us know any suggestions on what you'd like to see added to this site.
About Us
At isave we help businesses to communicate targeted, relevant and automated messages to their prospects and customers.
By developing visual and user-friendly solutions that bring the management of all relevant media into one platform, we ensure the marketing message gets the necessary visibility, reaches the correct person and has the right impact.
In a world where communications filters are developing rapidly to keep pace with the enormous quantity of messages to which we are all exposed, it is the marketing professional's job to make communications targeted, across multiple channels with clear branding. Our mission is to be the strongest and best provider of a multi-channel marketing communications platform. We are committed to being the marketing professional's most important partner.
isave AS has been developing media solutions for marketing professionals since 2000. We have focused on adapting our approach to the continuous growth in multi-channel communications and the demand for more user friendly solutions. We undertand that the marketing professional is happiest with high-quality visual solutions rather than the "typical" complex data systems. Economists have ERP systems, sales teams have CRM systems and now marketing professionals have isave.DIALOG.
Patience and development – our story
After 14 years of long-term strategic planning and creative development with an experienced and talented team, we are proud of what we have achieved with  isave.DIALOG: a unique and comprehensive marketing toolset with a large footprint and international reach.
Ideas are often born when something seems unnecessarily complicated. This was exactly what happened with isave. It all started in 2000 when someone asked, "Does getting a correctly branded business card that displays the correct information really have to be so difficult?" By combining our vast experience in the advertising and graphic design sectors with some simple surveys we were able to show that our it could take, on average, four days to get a simple business card artworked, proofed and amended before it was finally ready for print. During this time the customer would have spent two to three hours gathering data, preparing the order and going through endless revision cycles, before finally placing the order. The print house would have spent at least as much time again on the job – time that it seldom got paid for. Just a few months later our first Web-to-print solution went live, much to the delight of both customers and suppliers, who witnessed the time it took to produce a business card slashed from days to just a few minutes.
Innovations often take time to be adopted by the market and it took six years of limited growth before our solution suddenly took off. More companies discovered the advantages of template-based production, not only for business cards, but also for more and more types of printed materials. And print houses also wanted their own branded solutions that they could offer to their customers. This meant it was a natural step to start offering our solutions through that channel. Now things really started to get moving…
At the same time as Web-to-print was starting to get established as a concept, email, microsites and SMS emerged as some of the most important media for providing more effective and responsive marketing communications. In no time at all we experienced a paradigm shift. While the technology within these media channels had come a long way, their combined use in the market was still in its early stages. We were beginning to understand the possibilities offered by these new media channels and how powerful they could beif they were integrated . It was no longer just about making it easier to produce printed materials from correctly branded templates, there was a need for a complete solution, something that could simplify the organisation, creation and distribution of materials across various media channels.
Today isave.DIALOG has emerged as the toolset for marketing professionals who want to give different users access to a range of campaigns and materials. Our templates and tools make it easy for users to produce their own personalised messages in electronic and printed media and to distribute them automatically to specific target groups at the right.