isave.PRINTOMAT is the ultimate Web to Print solution for Printers, Agencies, Corporates and Enterprises. Whether as a stand alone service to existing customers or integrated as part of the isave.DIALOG suite to provide total Brand Asset Management, isave.PRINTOMAT streamlines processes reducing the cost of managing and buying print of all kinds.
isave.PRINTOMAT is compatible with leading graphic sources including Adobe InDesign, QuarkXPress and Adobe PDF and provides a wide variety of industry standard output formats including, PDF, VPS and PPML.
isave.PRINTOMAT presents users with simple, intelligent access to brand approved materials, with the capability to edit, localise and customise materials according to brand rules. Editing can be carried out in true WYSIWYG, form based or data driven. isave.PRINTOMAT includes support for corporate typefaces, images, transparency, colours and through the media bank (Files), your image assets. isave.PRINTOMAT supports dynamic data driven content, including data driven objects including graphs and charts.
Utilising isave.DIALOG, isave.PRINTOMAT can execute printed materials as a part of an integrated and automated campaign.
Print on Demand
Orders for printed materials are routed to commercial print providers. These are either selected from the isave global network of print service providers, your own, or client specific partners.
Production can be traditional litho, gravure, flexo, web, screen or digital. Clients can nominate print partners for specific geographies or job types. Each partner will receive print ready production files.
Direct Marketing, Variable Data, One-to-One Marketing
Where direct mail documents require personalisation, variable data, fulfillment or high volume data driven output, isave.PRINTOMAT enables mailing lists or databases to drive the job, enabling businesses to leverage local data or for local teams to leverage central data sources.
Through isave.API data can be connected to client systems including CRM or ERP.
Local Print
This module enables users to download high-resolution PDF files for local printing and low-resolution PDF files for electronic delivery.
PoS
isave.PRINTOMAT allows localisation and customisation or adaptation to be applied to brand templates. Streamlining the creation, localisation and production of PoS materials irrespective of geography. isave.PRINTOMAT produces flat production files for output by service providers.
End user – typical print work flow
1. Log in via the unique company direct login link or the standard link http://dialog.isave.no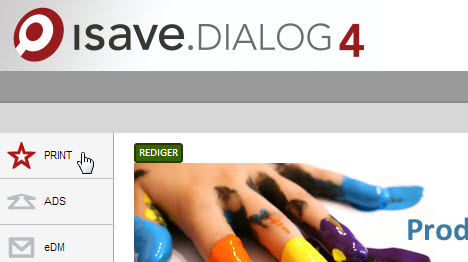 2. Select Print from the left hand menu (this menu can be named differently, but is always identified by a red star).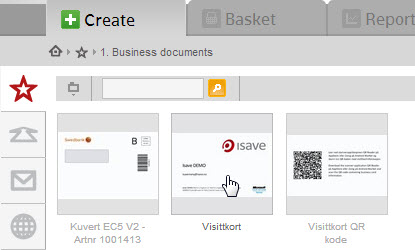 3. Choose the template that you want to produce and order

4a. Press the CREATE button.

4b. If the template do not use the Name variable as document name, fill out the the element name for archiving purposes and the press the CREATE button.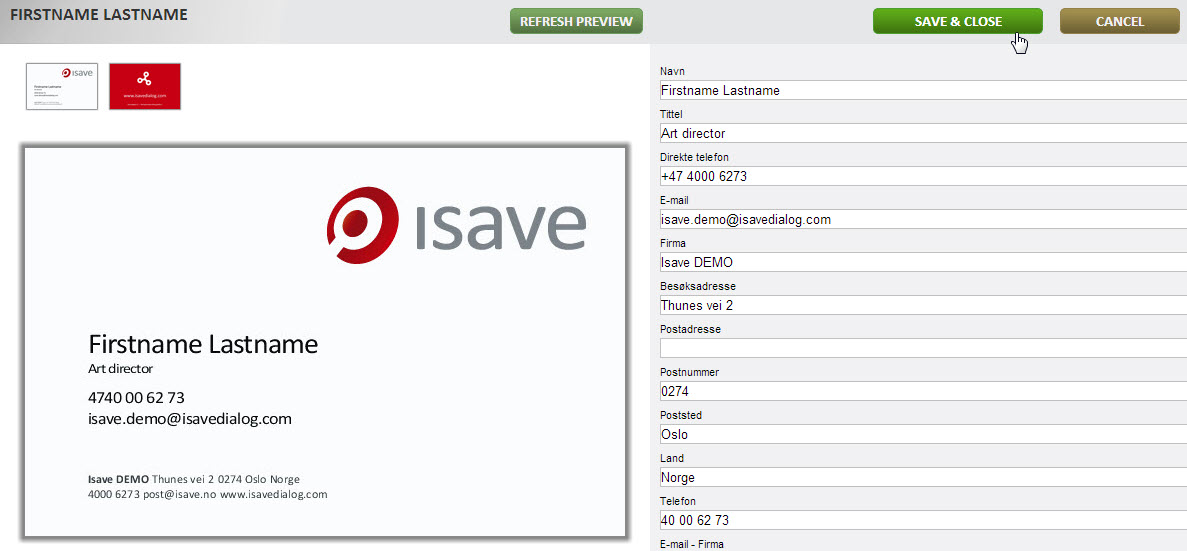 5. Fill out the text boxes that don't fetch data from the databases and presses REFRESH PREVIEW to see the new preview and SAVE & CLOSE to generate PDF files.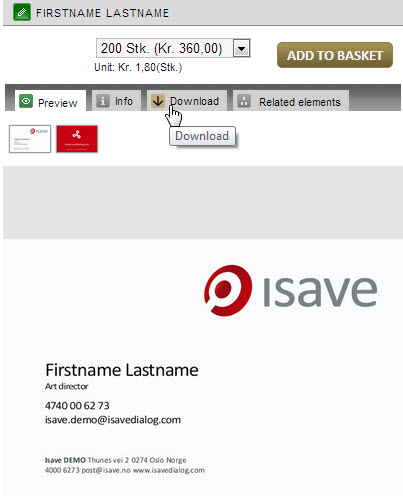 6. You can review the PDF file if the preview does not show all essential data.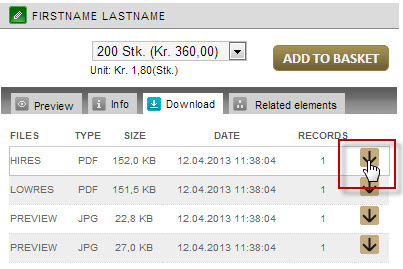 7. Download the PDF file to review the file by clicking the download icon.

8. To order a document press the ADD TO BASKET button (shopping basket tab will flash).

9. Press the BASKET tab to check out order.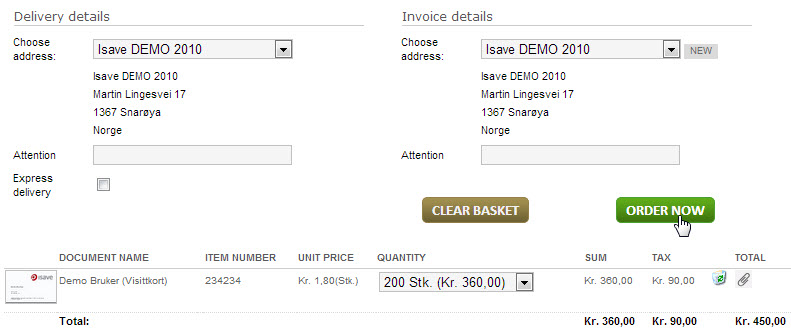 10. Selects an invoice and delivery address or address (if this is not disabled from the company settings). Fill out the field Attention or company specific fields. Press ORDER NOW button.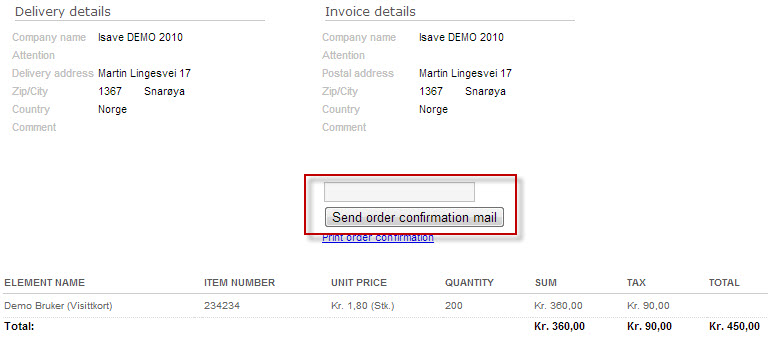 11. An automated confirmation e-mail is sent to the e-mail address registered on the logged in user. Use the Send order confirmation mail button to send the same information to an other e-mail address.
12. An order mail is now sendt to the Printer.
View the video: Forms template in use
View the video: ADs template for end user