Local advertising requires brand management to ensure the message remains consistent with central marketing or and other national activity. Approved and adapted for local press sizes with specific calls to action and messages, isave.ADs delivers.
For local, national and multi-national advertisers, isave.ADs provides automated advertising, adaptation and ad placement.
isave.ADs enables centrally designed, brand approved advertising to be adapted, sized, and placed by dealers, retailers, local personnel and resellers at a fraction of the cost of traditional local advertising processes.
isave.ADs provides the routing of central or co-branded advertising templates through isave.DIALOG for either direct-to-publication placement or to a repro house or your media buying agency. isave.ADs includes publication specific specifications and colour profiles.
isave.ADs has full adaptive object based scaling, allowing your templates to scale and adapt the brand approved design to fit any Ad placement size. isave.ADs includes a partner publication database allowing publication specific mechanical data to be drawn from a central repository, a third party advertising management system*, or for the user to enter their own data. The database supports local favourites for repeat placements and can support delivery through third party ad delivery applications using isave.API.
isave.ADs revolutionises local advertising and adapts by streamlining the design process, reducing production time from weeks to minutes, and dramatically reduces costs.
Template creation (see PRINTOMAT)
Making a document from a template (See PRINTOMAT)
View the video: ADs template for end user

Send to media

Click the "create ad" button. When your AD is created and a PDF is generated, you will be led through a sending and order schema from the document panel.
If you want to see the order history of this ad, click the report tab.
SET DETAILS for the AD
After you have clicked the create ad button, it will take you to the form below.
Insert your ad information and invoice info.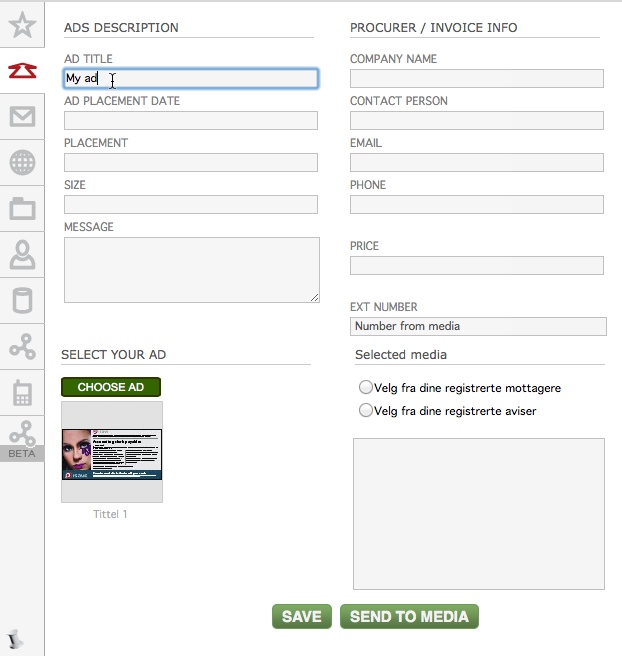 Selected media
There are two ways to add suppliers:
1. You can add a supplier directly in the send tab like shown under. Select if you want it to be a part of your recipients (mottagere) or your papers (Aviser). Insert name and e-mail and press "Add new supplier".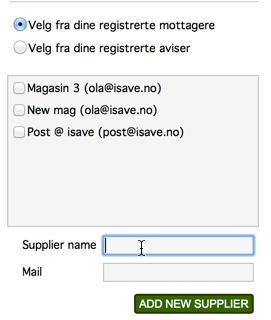 2. You can add a supplier in the system menu, under suppliers.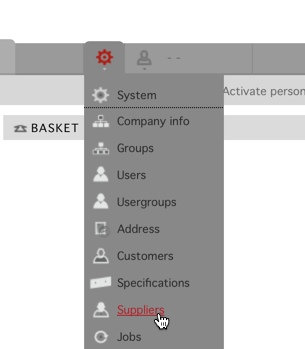 Read more about managing suppliers here: Managing suppliers
SEND

When you push the send button, the PDF and the order information will be sent to the media. You will receive a confirmation email from the system.
SETTINGS

The ADs template creation is similar to regular Print template creation, but in the standard project file for ADs we have created an EPS job so that the output can have different ICC profiles and different downsampling of the images.
View the video: ADs template for end user
Template creation (see PRINTOMAT)
Sample ADs Project File (download here)