Create variants in a few seconds. Create the product following the normal procedure with a default picture. Then visit the admin area to administrate the product settings. Remember to add a price and supplier to the product (makes it possible to order the product).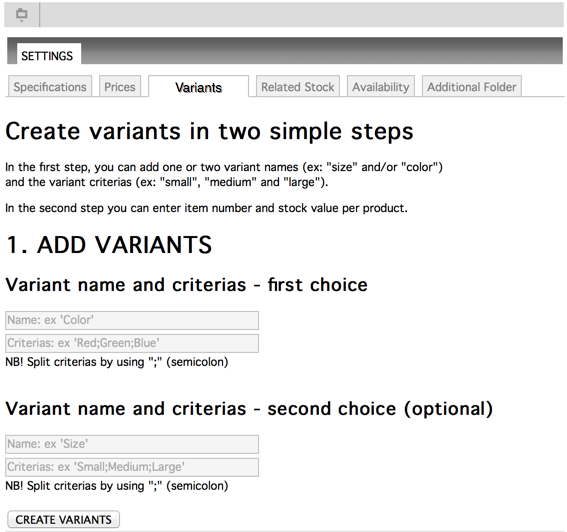 Then select the «Variant» tab, and enter in information about the requested variant type (ex. Color and/or size). You can have one or two variant types.
NB! You can connect images to the first variant type in the next step (therefore you should use color first and size in the next text box).
Enter the different variants (ex. «Blue; Green; Red»), and click «Create variants».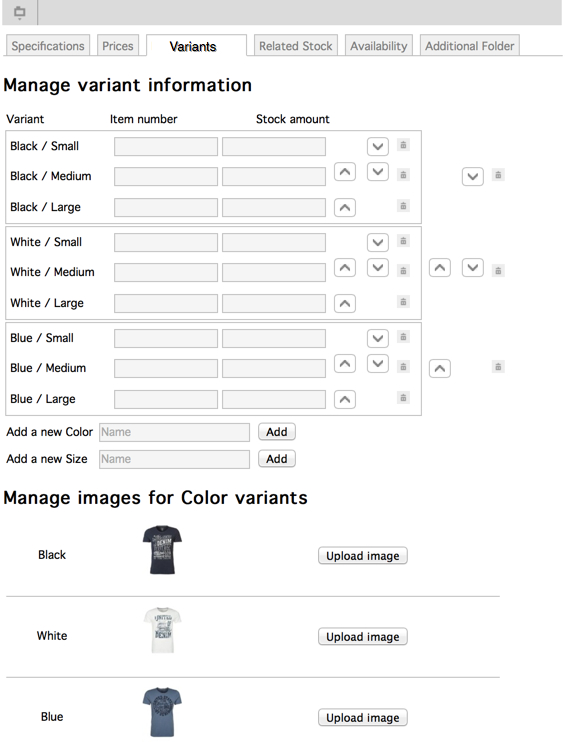 In the next step, you can enter a unique item ID per variant and stock amount per variant if you wish to display your stock level. You can also rearrange the display order and delete variants or add new variants in this area.
Finaly, you can upload unique images for each variant (only for the first variant type), and your product is ready to be ordered!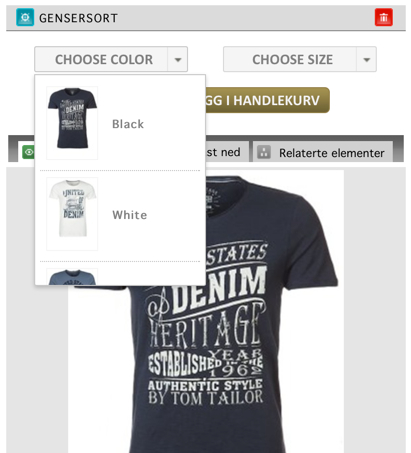 eDM advanced toolbar
Text alignment (left, right, center and justify)
Social Media Sharing
Alternate Fonts
Company Text Colours

eDM Company colours
Limit eDM text colour to company palette.
Setting is located under the company skinning tab.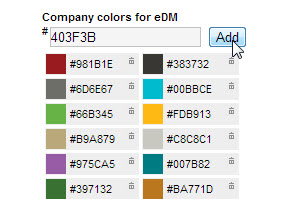 Only the company palette is shown for end user.

Advanced search for contacts
Create contact selections from multiple lists, matching spec field values, advanced filters and by created date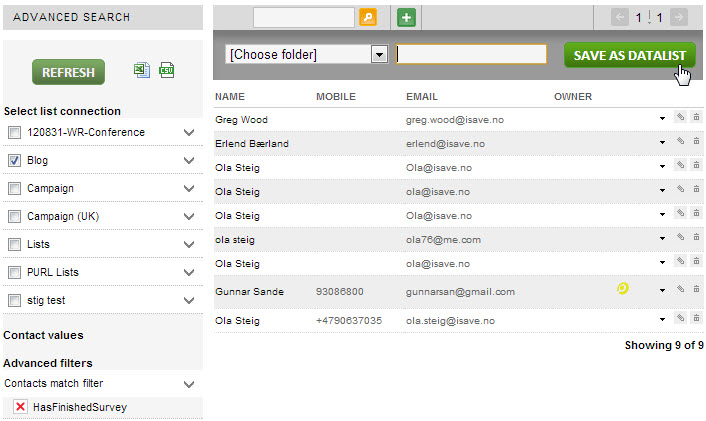 Print Purl
Its personal, its yours, its impressing and looks great on paper!
See this manual for more set up instructions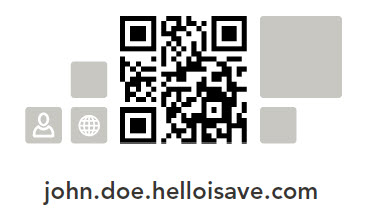 SMS reports
Information about SMS Name, Sender, List and Release date. Report on delivered status.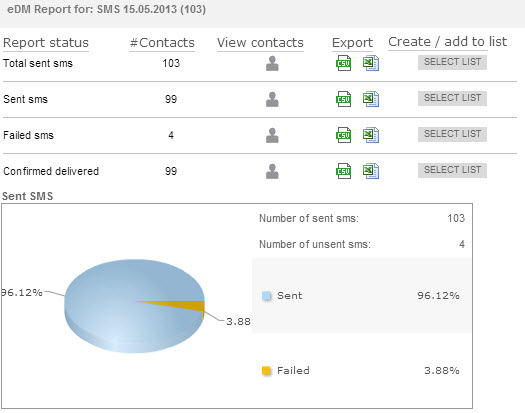 PURL reports
Information about opened/sumbitted forms, Client platforms, Source of request and unique/repeat visitors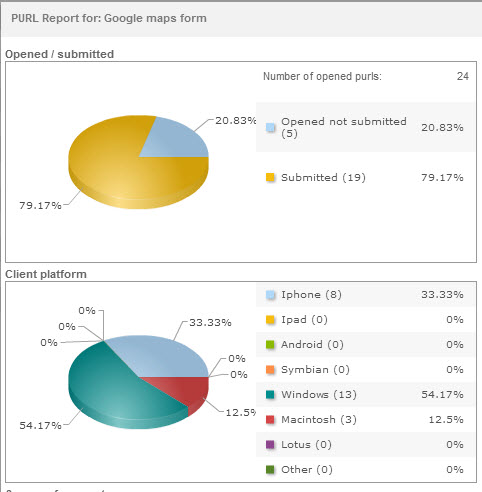 User Groups
Usergroups – department and userbased
Inherit access from parent level
Control access on templates
Control access on data lists
Control access on folder and files
Control access on campagins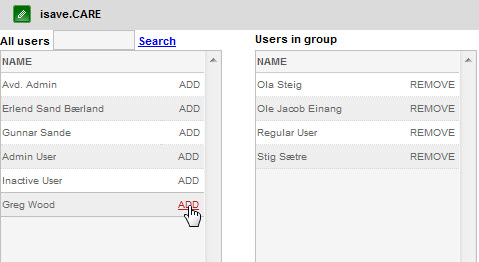 Social Media
Share PURL pages on Facebook, twitter, LinkedIn and Google plus
Share links in eDM advanced toolbar
Share newsletter in send tab

Email on Acid
Preview eDM in 16 desktop e-mail clients.
Preview eDM in 9 mobile e-mail clients.
Preview eDM in 22 web e-mail clients.
Get HTML analysis, tips and tricks.
Turn Image Blocking on and off
Turn client interfaces on and off
Image Crop in form templates
Set the 'Allow image cropping' setting per image variable.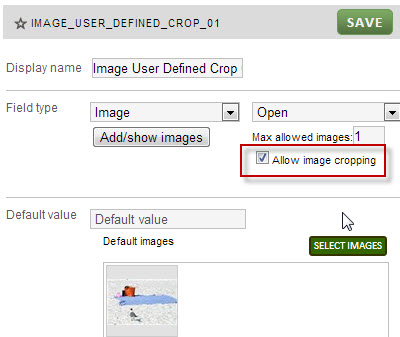 Crop images in form templates.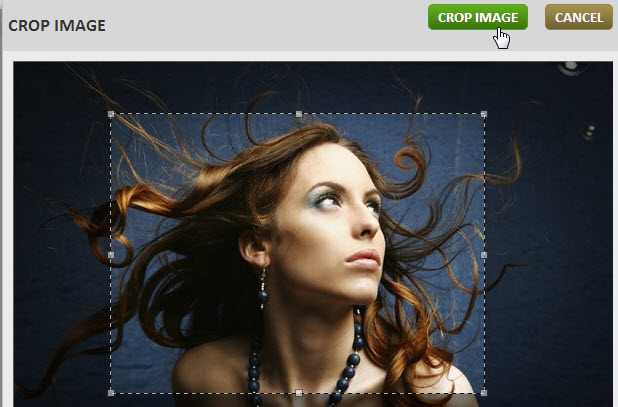 Image DPI control 
Set a minimum DPI setting per template to ensure print quality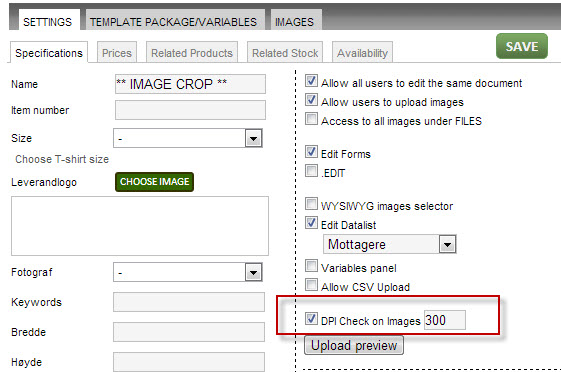 The end user will get at warning if image or crop is below the DPI setting

Delete many (files)
Delete multiple files from a folder

Activate person
Agent can activate 'end user' in top menu.

Print Draft
Create, edit and save an element as draft.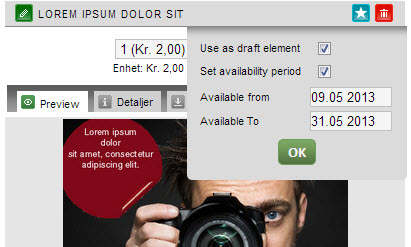 Select predefined elements from drop down list upon creation of element.
Merge (CSV and datalist)
New merge feature lets you merge both templates and elements.
Works with CSV or data lists.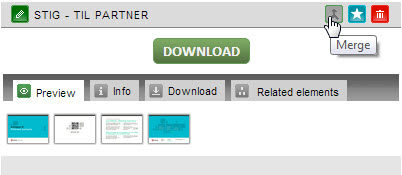 Automated CMYK to RGB
When adding CYMK images in files the preview is converted to RGB for HTML mail usage
Thumb view sort order         
Name (a-z) or (z-a)
Created date (new-old) or (old-new)
Modified date (new-old) or (old-new)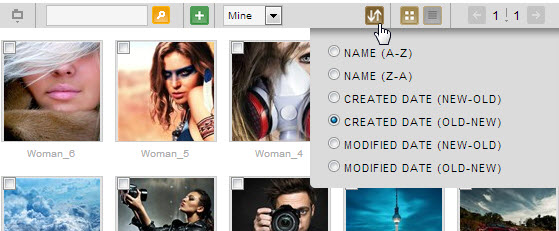 Cosmetic changes 
Minor changes like utilizing the whole page for grids and details, icons and localization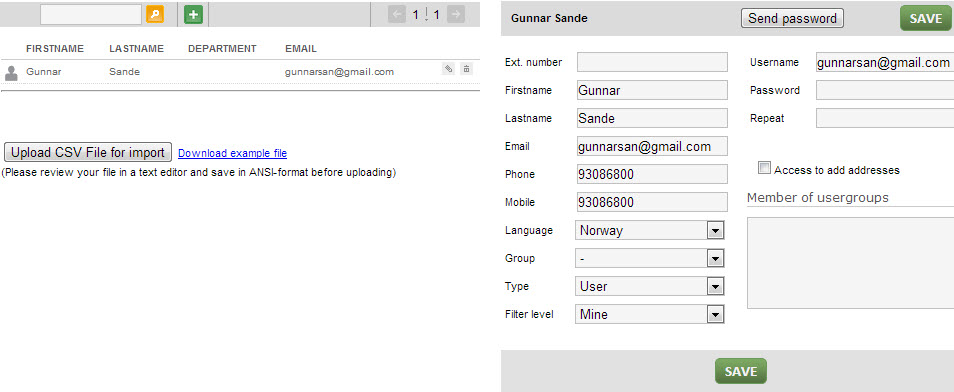 New features in isave.DIALOG 4
Faster, more user-friendly and full of new features
After extensive testing conducted by isave their super users, we are proud to welcome all customers to isave.DIALOGUE 4.0. To make use of our new solution simply click on the "Switch to 4.0″ button at the bottom right corner, after you are logged in isave.
Up to 70% speed increase
We have put considerable effort into optimizing processes in isave.DIALOGUE 4.0, and it has paid off. The entire solution is now faster and more responsive than ever transpire, and tests show that some operations in isave.DIALOGUE 4.0 performed much as 50% faster than the previous version.
Brand new print step
It has become easier and more straightforward to produce template-based documents. With bold buttons to retrieve information from databases, larger preview, the ability to update the display before you generate the PDF document, you will experience the production fast than ever.
Easier Master Layout under isave.PRINT
For our admin users, we've simplified the layout of templates further – it now takes only a few minutes to complete a template Isave.
Among other things, we have replaced the formerly called STEP with sections – a new and far more flexible solution, which, among other things, gives you full control of the help texts, section titles and text on the buttons. To acquire images, contact details etc, you now only one button, the previous solution showed buttons for all fields.
See 90 second video of the Master Layout isave.DIALOGUE 4.0
Enhanced navigation
The way you navigate around in solution to have a real facelift. We have introduced tabs in all areas, so that the workflow is as equal as possible whether you produce printed materials, newsletters or manage files.
In addition, we've added a clickable pathfinder which both makes it easier to see where you are in the structure and to navigate you anywhere you want.
We have therefore removed the solution with several information panels below each other. A nice result of this is that now you can build as many folder levels you desire!
A brand new photogallery
… Without having to move them! We have worked diligently to develop a picture archive that is fast, easy overview and makes it easy to use images for what you need. The feedback so far tells us that we have succeeded!
Search photos now takes a fraction of the time it took in our old solution. It is easy to create a variety of images that can be sent to your agency or to yourself for local use. Explore the image closer without having to pick up the other pictures.
Ability to update many products at once (mass update)
You can now easily update many products simultaneously by highlighting many products (including static elements under FILES and PRINT), and select "mass update". You can update the specification values, vendor associated with the product, folder location and department access.
Create file name, item number and price automatically when importing files
When you upload multiple files, you can ensure that product information isave automatically correct. The files must be named according to the following standard:
itemnumber # Product Name # Price.extention
eg A23144 # Flyers with red background # 120.50. jpg
There are several tools available to edit the filenames of many files at once. Here is one example:
http://www.filerenamer.net/
Ability to control access contact lists
We have created a folder level of contact lists. These folders can access is controlled, so that eg. a user from one department only gets sent out newsletters to their own customers. This makes isave.DIALOGUE 4.0 especially suitable for larger companies with local branches.
New opportunities for mobile communications
It is now possible to create sender name sms directly in the campaign module, so that the name is related to the campaign setup.
Mobile expands reach with incoming MMS, so that users can send MMS images to be saved under the contact card in isave. This makes it easy to create campaigns where consumers are encouraged to environmental or product images.
This document contains a brief summary of the major features contained in the upcoming upgrade of isave.
New features in isave.DIALOG 3
Administration Features
The new isave Dashboard gives Administrators improved control of their own sites and customer microsites.  In addition a number of new standard reports can be generated from the dashboard, we will be adding new views/report-options shortly.
To set it up, choose System > Reports…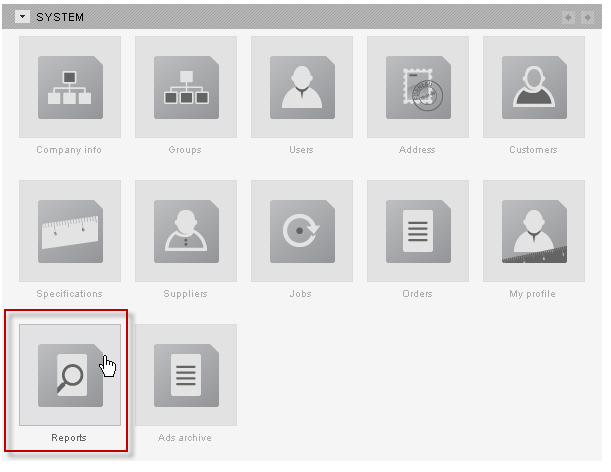 .. click the button Generate Report to produce and download the report that you need as a MS Excel csv.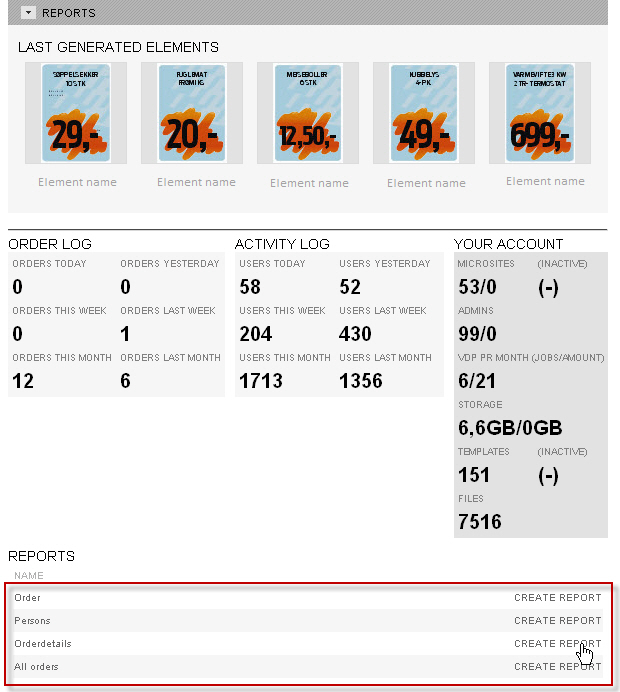 Controlling your Storage within isave with the Time-before-Purging Feature
It is now possible to set a 'time-before-purging' on your dynamically created files on a per template basis. This will prevent outdated files from filling your available storage space.
To set up, select 'ADMIN' view for you template. Select the 'SETTINGS' tab and type in the number of days in the field "Days to live for generated elements" (for example 30 days)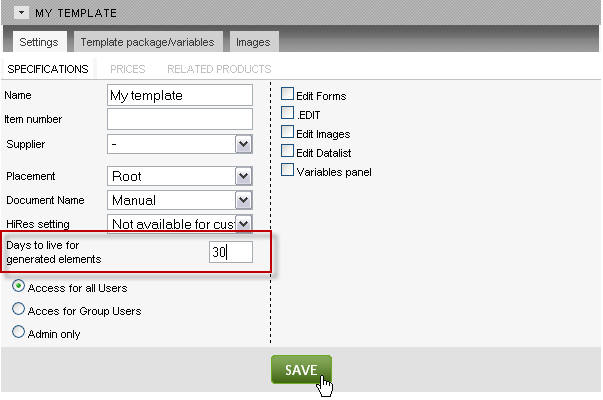 Logout Re-Direct
This feature allows you direct your user or customers to a webpage of your choice when they logout of isave. The d
efault redirect-page is http://www.isavedialog.com/
To change this to a webpage of your choice go to  System > Company Info
Type in the URL with the http:// start  in the field "Logout redirect"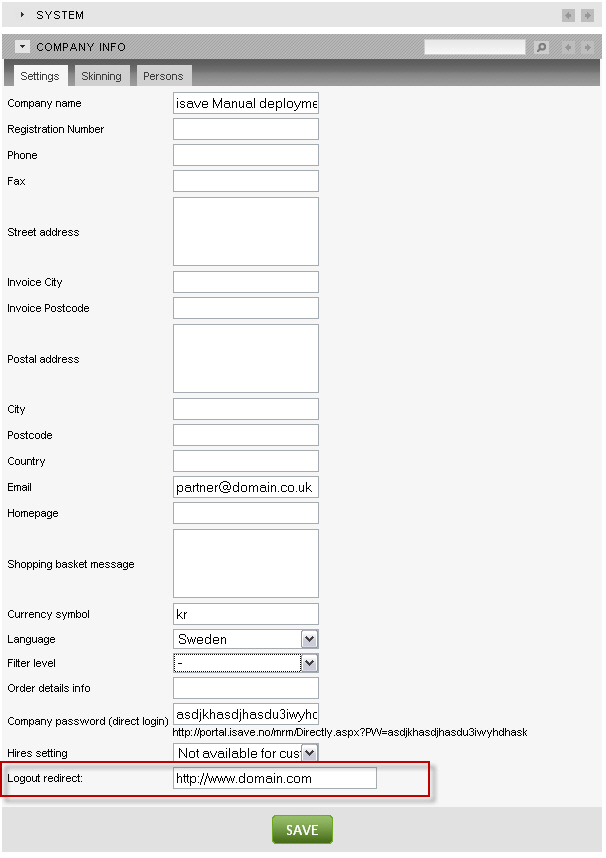 Real-Time Previews
We have added the option to generate previews in realtime for print-jobs based on variable data (using isave datalists or by uploading a CSV).
To set this option, select your desired template and follow these steps:
–
1. Go to Admin > Settings > SPECIFICATIONS
2. Check Review in the right column
3. Click SAVE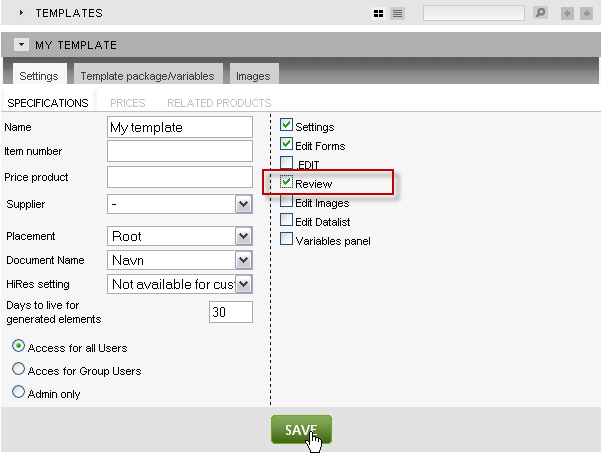 The preview will update when the 'review' is activated and the template is connected to a isave datalist or a CSV file is uploaded.
Previews are dynamically generated when browsing through the data using the green arrow buttons.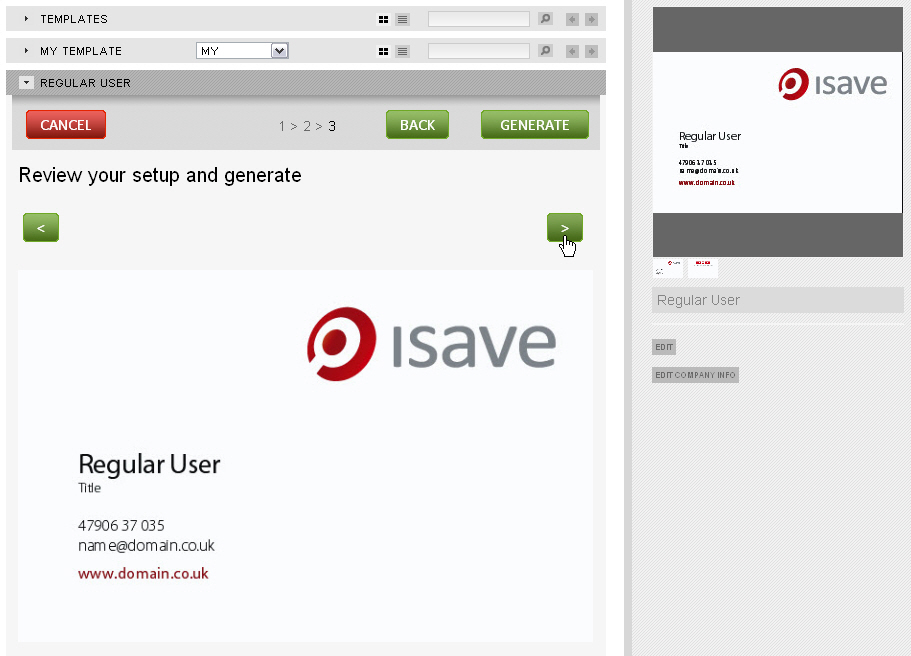 By clicking the preview in the right column, a larger version of the current preview will open in a container, displaying a 'close' button and the name of the element/record.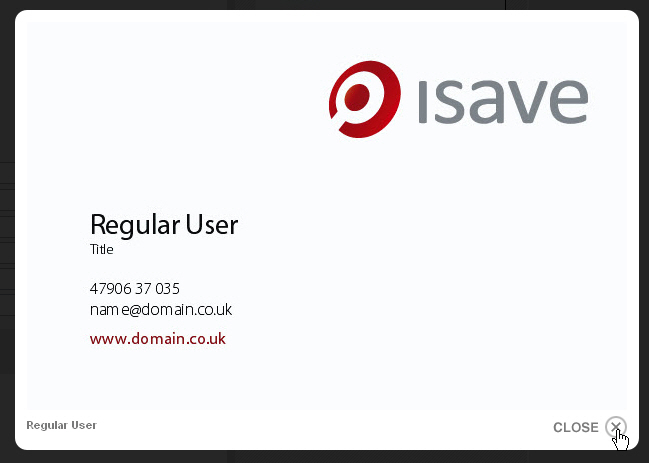 Document Creation – New Form Steps!
We have rebuilt the template creation process to make it more intuitive and user-friendly.
Users are guided through the document generation process with next buttons and the feature called steps are now called pages (can be renamed).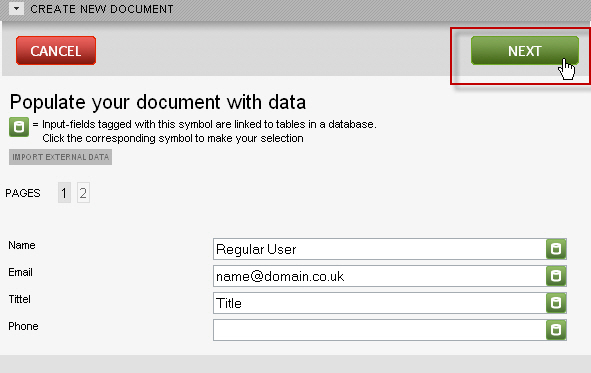 New features in isave.PRINTOMAT
Stock Control
Our new 'Stock Control' feature with the following options/functions:
– Starting Stock
– Current Stock, with automatic stock level calculation
– 'Stock-Low Warning' and notification-setup
– Automatic Order Blocking when Order Quantity exceeds Current Stock
Print > Product > Admin > Settings > SPECIFICATIONS > Edit stock values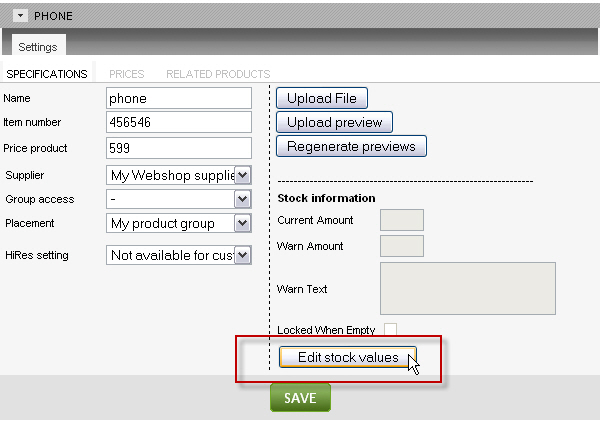 An e-mail with the Warn Text is sent to the supplier when the stock ordered drops beneath the Warn Amount.
If the check box Locked When Empty is checked the users will be unable to order the item if no stock is available.
Budget Control
New budget-control functionality for User Groups.
– Remaining budget
– Customizable 'Warning' when Shopping Basket Total exceeds remaining budget
– 'Notification' to Administrator via e-mail
System > Group > select a Group > Edit budget values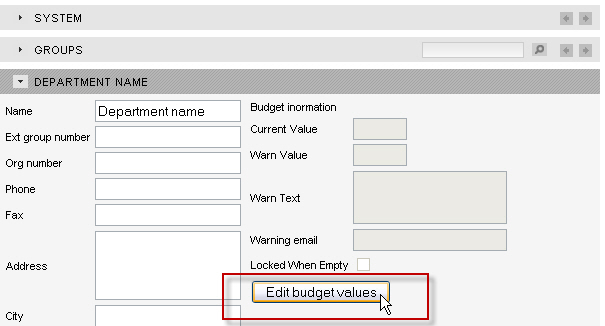 Set current value, warn value, warn text that will be sent on email to the Warning e-mail adress.
If the check box Locked When Empty is checked the user will not be able to order any products if the budget is empty.

–
Tax and delivery settings
We have added extended support for Taxation Rates in Percentage (%) as an overall default setting per Company/Customer.
This will result in text being displayed in the basket.

You can also specify if you will add delivery cost to the elements being ordered. To set it up, go to 'Company info > Settings'. Scroll down to the bottom where you'll find a menu labeled 'Delivery Cost'. Make the appropriate selection. If you choose Standard and express, the purchaser can ask for express delivery in the basket, and the prices will be calculated accordingly.

Under the admin area for the files and templates within the solution, you can then specify delivery cost, express delivery cost. In addition you can specify the tax rate for files/documents, and separately the tax rate for the delivery cost.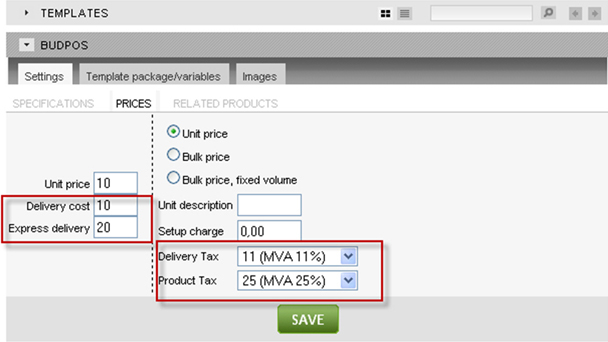 Interface Elements
We continue to further develop the interface to make the solutions as user-friendly and intuitive as possible.
We are compiling our new user guides, manuals and tutorials at
wiki.isave.no
although not complete at this time we continue to add new topics and chapters. All new functionality described in this document will be thoroughly documented
here
at the time of release.
User picture uploads
Allow upload for users that can be set on a folder or a folder group. When used on a folder group the end user can create folders within the folder group and upload images to the folders within the folder group.